Zmotion TechnologyIAS 6.1H E189 Express Delivery
  The 2020 China International Industry Fair was grandly held at the National Exhibition and Convention Center (Shanghai) from September 15th to 19th. Zmotion Technology once again appeared at CIIF Industrial Automation Exhibition (IAS), booth number 6.1H E189 (near gate 19).
  At this exhibition, Zmotion Technology showcased related products such as motion controllers, motion control cards, expansion modules, and man-machine interfaces, and focused on the 16-axis motion controller visual dispensing and Delta visual sorting based on the open Linux platform. , ZMC460N dual-bus controller, four-axis/five-axis RTCP virtual simulation and other industry applications, look forward to your visit to the booth for in-depth communication.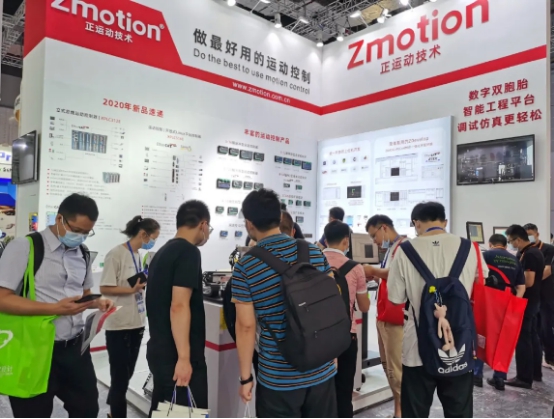 Zmotion Technology 6.1H Booth E189
  plan display
  Motion control solutions based on Linux platform cooperate with machine vision for rapid application
  Zmotion Technology is represented by the 16-axis EtherCAT bus type motion controller XPLC516E. It is based on the Linux platform embedded motion control + embedded machine vision solution, which is used in dispensing, coating, welding, inspection, assembly, sorting, laser printing Application scenarios such as labeling, loading and unloading, locking, and robotic manipulators are easy to develop and respond quickly, which can greatly improve the competitive advantage of customers' products.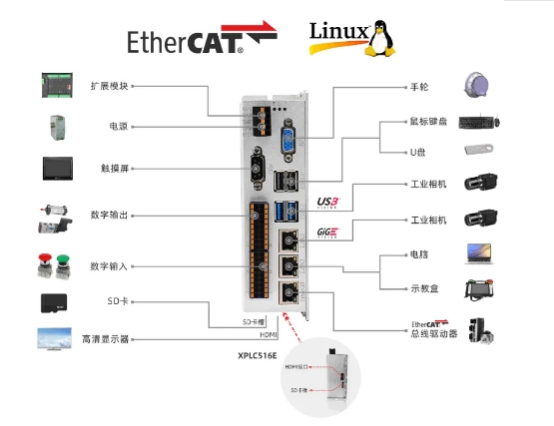 Program advantages:
  ⊙A set of software is compatible at the same time: the development of motion control, machine vision, configuration display;
  ⊙A set of procedures can be solved at the same time: motion control, machine vision, configuration display application;
  ⊙Simple human-computer interaction: without complicated interface code, easy design of interactive interface;
  ⊙Extensive hardware support: support domestic and foreign mainstream cameras, support EtherCAT, EtherNET and other communications;
  ⊙Automatic Linux system, can be connected with USB mouse keyboard, HDMI interface display screen;
  ⊙Localized data memory interaction, faster response speed of motion control and visual coordination.
  01, XPLC516E visual dispensing application
  ⊙Support complex motion control and visual flying shooting applications such as electronic cams, linear interpolation, circular interpolation, and continuous trajectory processing;
  ⊙Support FPGA hardware high-speed PWM output, hardware position comparison output, used in high-speed dispensing and laser energy control;
  ⊙ Support handwheel high-speed encoder input interface;
  ⊙Supports vision-related applications such as Mark point positioning, template matching, and camera teaching.

  02. Detla visual sorting application of XPLC516E-R
  ⊙Support CONNFRAME and CONNREFRAME forward and reverse solution manipulator algorithm;
  ⊙ Support 30+ manipulator models such as Delta, SCARA, 6 joints, palletizing, double rotation, single rotation, etc.;
  ⊙Support precise output, which can be used for visual aerial photography applications;
  ⊙Support encoder lock, quickly lock the current position at the moment of visual trigger;
  ⊙ Dedicated MOVESYNC belt tracking command to quickly develop the dynamic follow of belt grabbing;
  ⊙ Embedded vision supports Mark point positioning, shape matching and other functions.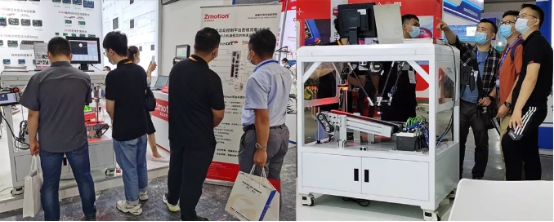 03. Visual positioning and barcode detection application based on XPLC516E
  ⊙ Support the connection of general touch screen and display ZHMI configuration;
  ⊙Support precise output, which can be used for visual aerial photography applications;
  ⊙Support Mark point positioning, shape matching and other functions;
  ⊙Support barcode detection, QR code recognition and other functions.