ZMotion technology deeply understands the importance of quality and efficiency to users. There are core technologies, such as electronic cams, multi-axis synchronization, etc., then we can assist customers to provide end users with high-speed, high-precision and high-reliability automation solutions.
1. Mask Making Machine
(1) High Speed and High Precision EtherCAT Solution with ZMotion Motion Controller ZMC432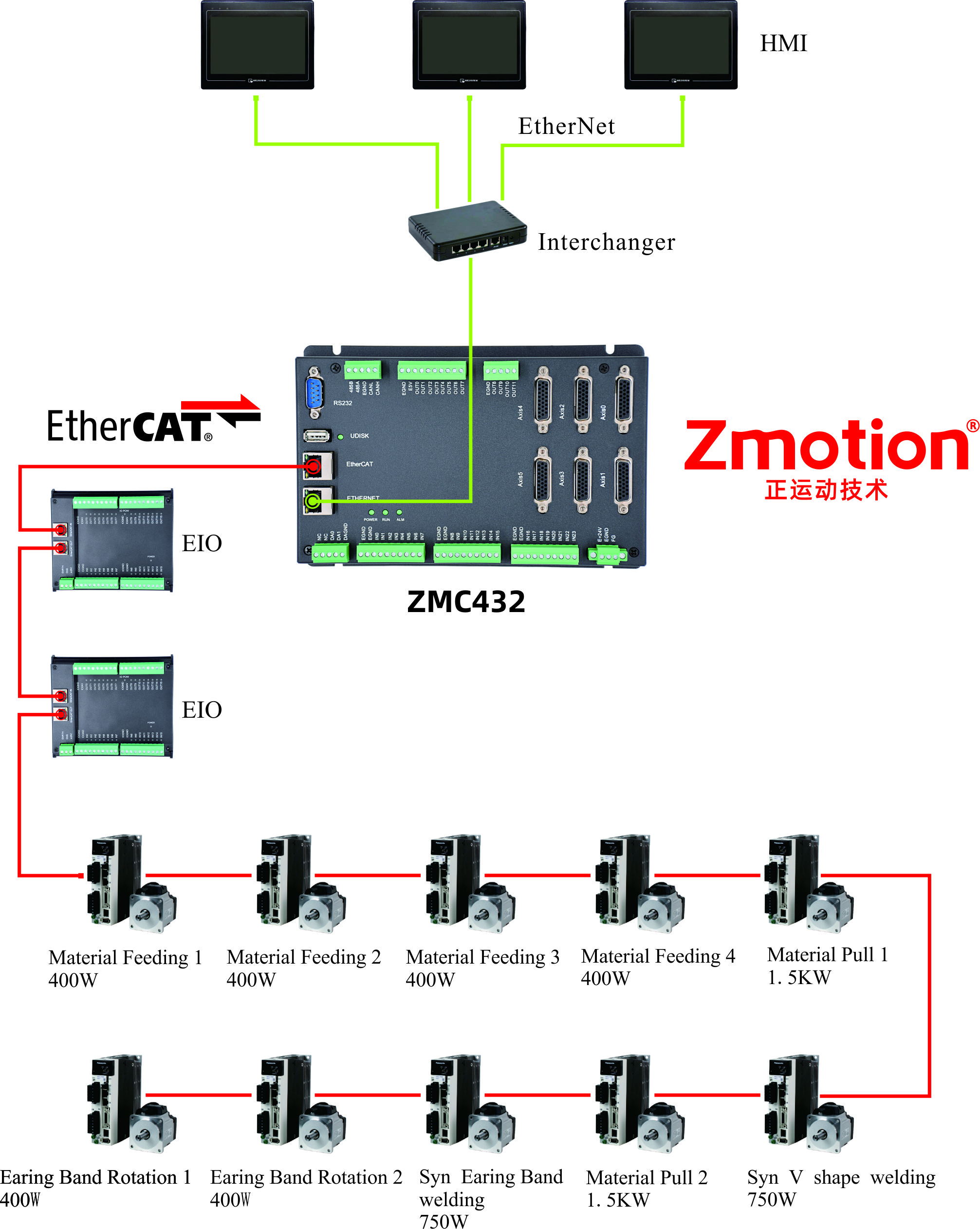 In terms of masks making, the manufacturers care its productivities most, to improve productivities, speed and efficiency are the main factors. Namely, motion control products and related system play an important role in this environment. Therefore, ZMotion Technology can supply customer with high speed and precision EtherCAT solution, including EtherCAT motion controller ZMC432, EtherCAT IO expansion module EIO1616MT, etc.
ZMC432 controls all EtherCAT servo axes and ultrasonic devices, EIO1616MT assists ZMC432 maintain additional IOs functions. In addition, it is easy and convenient to program, and electronic cam functions can be achieved through optimized motion control algorithm to increase production speed and meet the requirements of speed and precision for full-automation face mask production. In addition, this solution adopts industrial Ethernet bus technology with high speed, high precision and multiple
What's more, this solution uses some industrial EtherNet technologies features, such as, high-speed, high-precision, multi-axis synchronization, etc., in this way, debugging time can be saved greatly, increase the number of masks produced per unit time and improve the welding accuracy of the ear straps of the mask.
(2) Electronic Cam Application in flying shear in mask making
In the N95 mask cutting process, the electronic cam transfer process can be used to complete high-speed cutting, and the fixed length of the cutting can be set through the program to realize the skill.
(3) Flying shear in ear band welding and transfer printing
In order to improve production efficiency, materials keep transmission during production, and in the process of welding and printing, it is necessary to ensure that the welding equipment and pad printing equipment and the cloth are in a relatively static and synchronous state, so the ear welding mechanism and the pad printing mechanism need to move forward with the fabric, and then return separately from the fabric after welding and printing are completed.
Performance
● The fastest EtherCAT bus synchronization period is 125us, and 32 axes motion control can be achieved at most.
● There are 24 inputs and 12 outputs on board, 6 pulse outputs and 6 encoder inputs.
● Support EtherNet interface debugging program, and ModbusTCP, RS232 and RS485 support ModbusRTUS communication
● Support mixed use of EtherCAT bus and pulse, it is convenient to use pulse step drive.
● Support electronic cam, electronic gear, position latch, synchronous follow, virtual axes, precision output etc.
2. Automatic Bag Making Solution
The most common bag making machines are continuous plastic bag making machine, nonwoven bag making machine etc. The key controls of bag making machine are bag length adjustment and color label detection adjustment, the total process includes transferring, printing, sealing, cutting, waste materials collecting, etc., at the same time, errors should be minimized, efficiency should be met. ZMotion motion control solutions are based on this theory.
Typical applications: plastic making machine, nonwoven bag making machine, etc.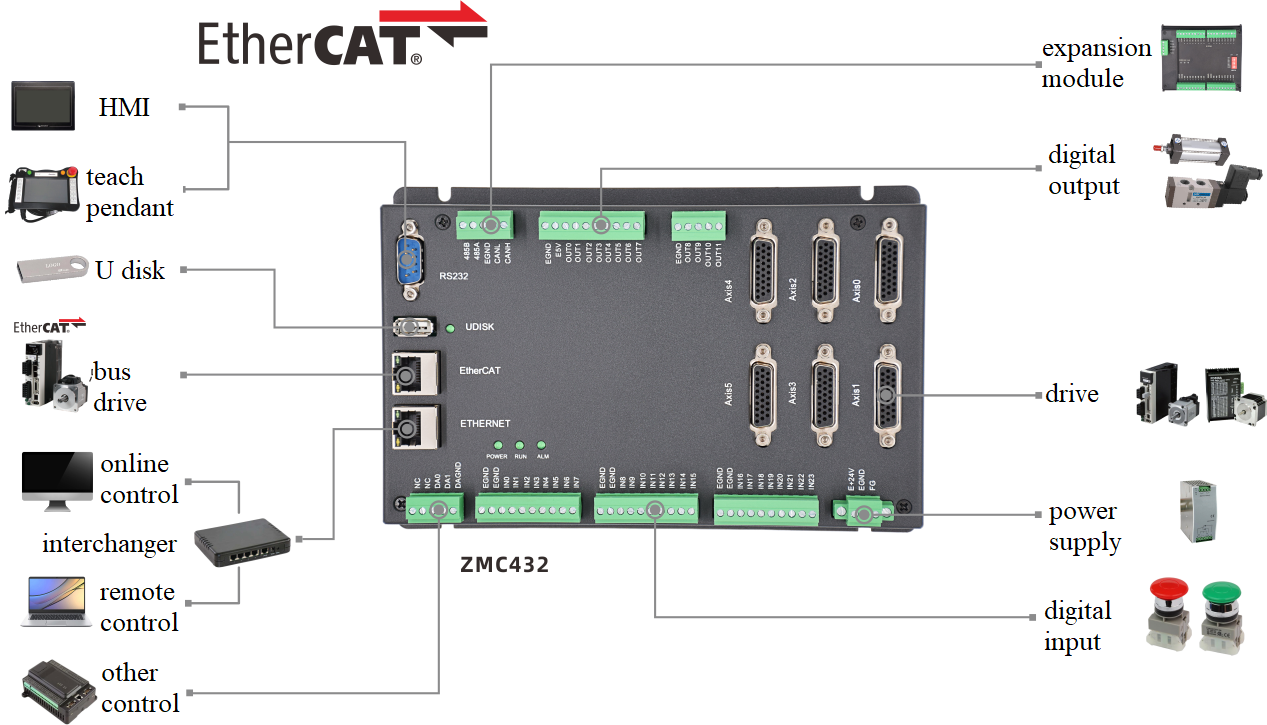 Performance
● There are 24 inputs and 12 outputs on board, and IOs can reach 4096.
● 6 physical pulse axes with a maximum frequency of 10MHZ, which can be connected to pulse servo and step.
● EtherCAT high-speed bus is used, the fastest refresh cycle is 100us.
● Support electronic cam, color label latch, virtual axis, synchronous follow, phase superposition, hardware comparison output, etc.
● Support PC online programming and debugging
3. Pillow Type Packing Solution
3 axes pillow type packing machines usually apply ZMotion motion controllers' functions of electronic cam and high-speed color label latch to realize processing of transverse sealing, transverse cutting, film pulling and materials feeding. At the same time, the position of the color mark of the packaging bag is precisely locked to realize error offset compensation. Compared with the traditional control method, the speed is faster, the accuracy is higher, and the equipment runs smoothly.
Typical Applications: food packaging, medicine packaging, commodity packaging etc.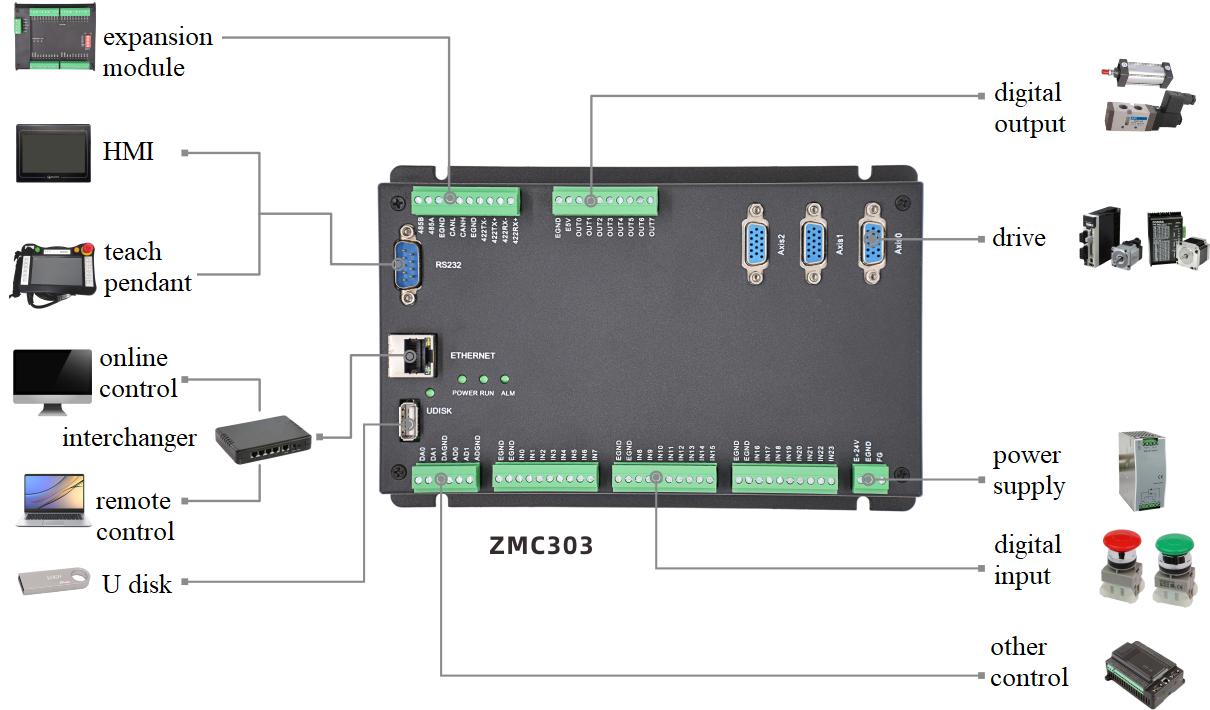 Performance
● There are 24 inputs and 8 outputs on board, 512 inputs and 512 outputs can be reached.
● 3 embedded physical pulse axis of 10Mhz .
● 2 ADs and 2 DAs of 0-10V.
● Support electronic cam, color label latch, virtual axis, synchronous follow, phase superposition, etc.
● Support PC online programming and debugging.





For more information, please pay close attention to "Support" and "Download" , and there are other platforms about ZMOTION -- Youtube & LinkedIn & Twitter & Tiktok & Facebook , including technical information (development environment, routine code), product showing, company development, etc.

Hope to meet you, talk with you and be friends with you. Welcome!

ZMOTION: DO THE BEST TO USE MOTION CONTROL.

ZMOTION Technology has attracted experienced talents from famous companies or institutions, such as Huawei, ZET, Huazhong University of Science and Technology etc. ZMOTION insists self- innovating and collaborating with comprehensive universities, to research basic knowledge of motion control. Due to its concentration and hard work in motion control technology, ZMOTION already become one of the fastest growing industrial motion control companies in China, and is also the rare company who has managed core technologies of motion control and real time industrial control software completely.

ZMotion Technology provides motion control card, motion controller , vision motion controller, expansion module and HMI. ( more keywords for ZMOTION: EtherCAT motion control card, EtherCAT motion controller, motion control system, vision controller, motion control PLC, robot controller, vision positioning...)