As we all know, 3C industry is typical labor intensive, therefore it is necessary to update automation of industry for reducing labor cost in the future. Based on own understanding of motion control technology in the 3C electronics industry, ZMotion focuses on the intelligent transformation of 3C electronics manufacturing, and provides comprehensive and rich intelligent manufacturing solutions for industry customers around its pain points and difficulties.


1. Industry applications and solutions for automatic dispensing equipment
Dispensing equipment is an automated machine that controls the fluid, drips and coats the product surface or inside the product. It can achieve precise glue-controlling of three-dimensional, four-dimensional, and even five-dimensional paths. It can be used to do dot, draw lines, circular or ARC type, etc. And it's widely used in 3C electronics, LED lighting, automotive electronics, new energy and other industries.
Typical applications: mobile phone buttons, mobile phone shells, liquid crystal module packaging, optical components, IC packaging, PCB bonding sealant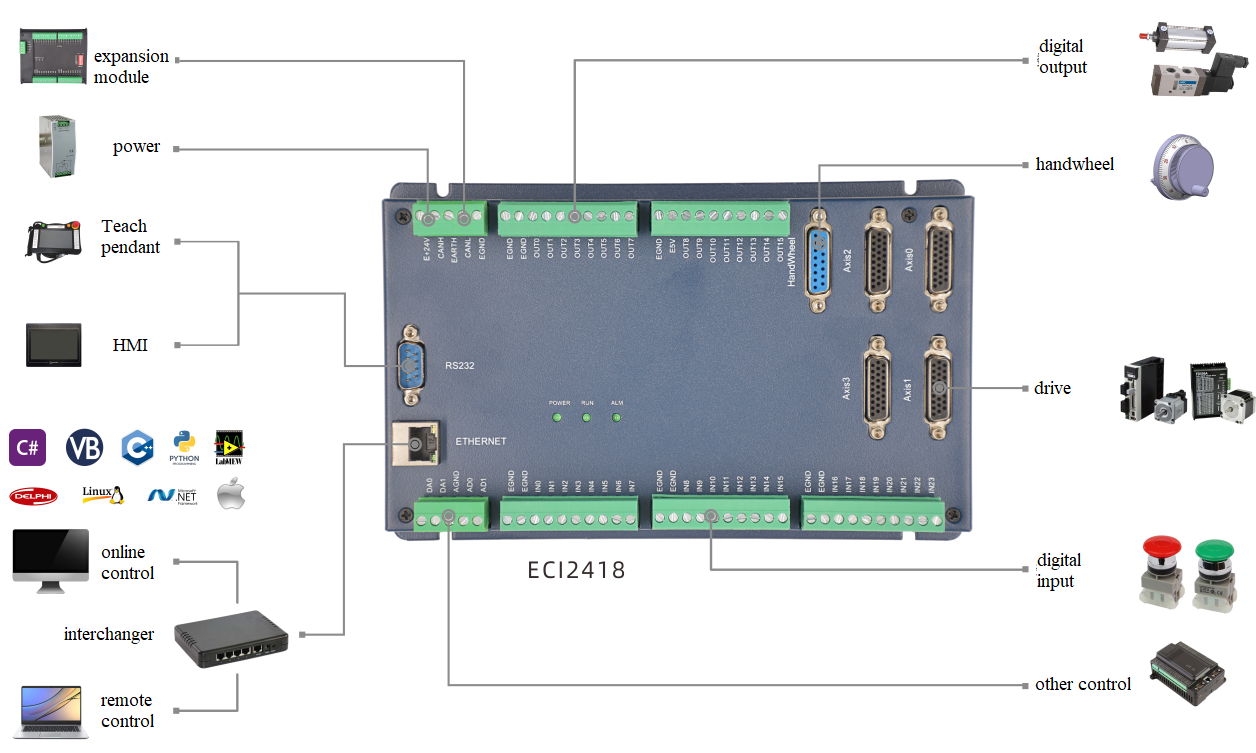 ECI2418-HW
performance:
● There are 24 IO inputs and 16 IO outputs on board, and the maximum differential pulse output is 10MHZ.
● There are two high-speed PWM outputs with 1MHZ.
● Support the precise output of the hardware layer "MOVE_OP".
● Support advance/delay switch glue "MOVEOP_DELAY".
● Support position synchronization output PSO.
● Support continuous trajectory processing.
● Support vision shooting.






2. Industry applications and solutions for winding equipment.
Winding machines are widely used in the manufacturing industries of toroidal core voltage regulators, transformers, and current transformers. It is a kind of mechanical equipment that requires high speed and precision control, and requires the control system to provide extreme accurate, smooth linear speed and flexible switching capabilities.
Typical applications: parallel winding machine, ring winding machine, stator and rotor winding machine, textile winding machine, voice coil winding machine...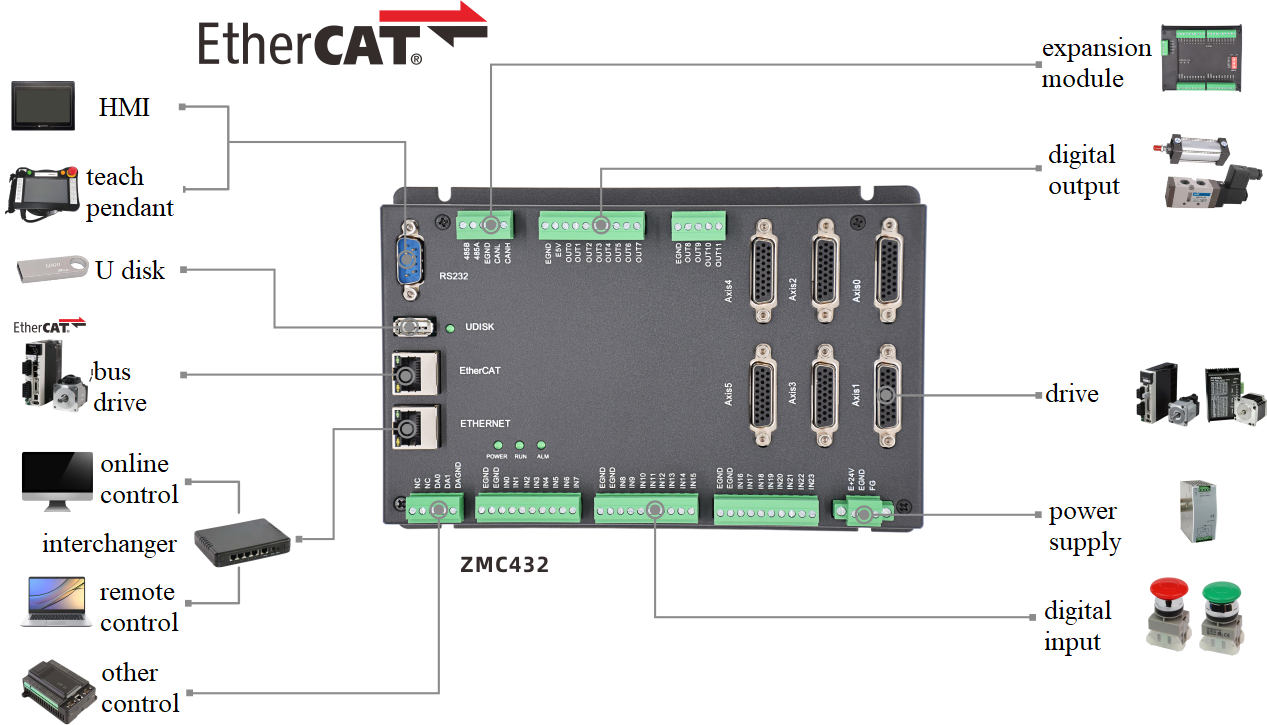 ZMC432-12



performance:
●There are 24 IO inputs and 12 IO outputs on board, and 6 physical pulse axes with a maximum frequency of 10MHZ, which can be connected to step. The synchronization period can be up to 100us. In addition, the winding is highly precise and tight, including soft switching.
● 16-axis linkage can be reached, and multi-head linkage design can be achieved.
● High speed and high precision, high repeatable positioning accuracy.
● Being programmable, convenient and flexible realization of various processes (stay wire, winding, wire arrangement, foot wrapping, rubber covering, etc.)
● Support PC software online debugging and programming.
For more information, please pay close attention to "Support" and "Download" , and there are other platforms about ZMOTION -- Youtube & LinkedIn & Twitter & Tiktok & Facebook , including technical information (development environment, routine code), product showing, company development, etc.

Hope to meet you, talk with you and be friends with you. Welcome!

ZMOTION: DO THE BEST TO USE MOTION CONTROL.

ZMOTION Technology has attracted experienced talents from famous companies or institutions, such as Huawei, ZET, Huazhong University of Science and Technology etc. ZMOTION insists self- innovating and collaborating with comprehensive universities, to research basic knowledge of motion control. Due to its concentration and hard work in motion control technology, ZMOTION already become one of the fastest growing industrial motion control companies in China, and is also the rare company who has managed core technologies of motion control and real time industrial control software completely.

ZMotion Technology provides motion control card, motion controller , vision motion controller, expansion module and HMI. ( more keywords for ZMOTION: EtherCAT motion control card, EtherCAT motion controller, motion control system, vision controller, motion control PLC, robot controller, vision positioning...)