Laser processing is a non-contact processing method, which will not generate frictional resistance between the tool and the surface of the workpiece, also will not directly impact the workpiece. The workpiece will hardly be deformed, and the laser processes locally, which means there is no influence on the non-laser irradiated part basically, so laser processing is a high-speed, high-efficiency, and high-precision workpiece processing method.
Laser processing technology is a combination of light and electromechanical technology. The moving speed, power density and direction of the laser beam can be adjusted, and it is easy to cooperate with the numerical control system to process complex workpieces, then, different levels and ranges of applications can be achieved.
ZMotion Technology has a deep insight into the future development trend and huge potential of laser applications. Combined with our own understanding of laser processing technology and motion control technology, ZMotion can provide customized motion control products and solutions to help industry customers provide users with unique, customized, more flexible and efficient laser application solutions.

→ ZMC408SCAN Opened Laser Galvanometer Controller: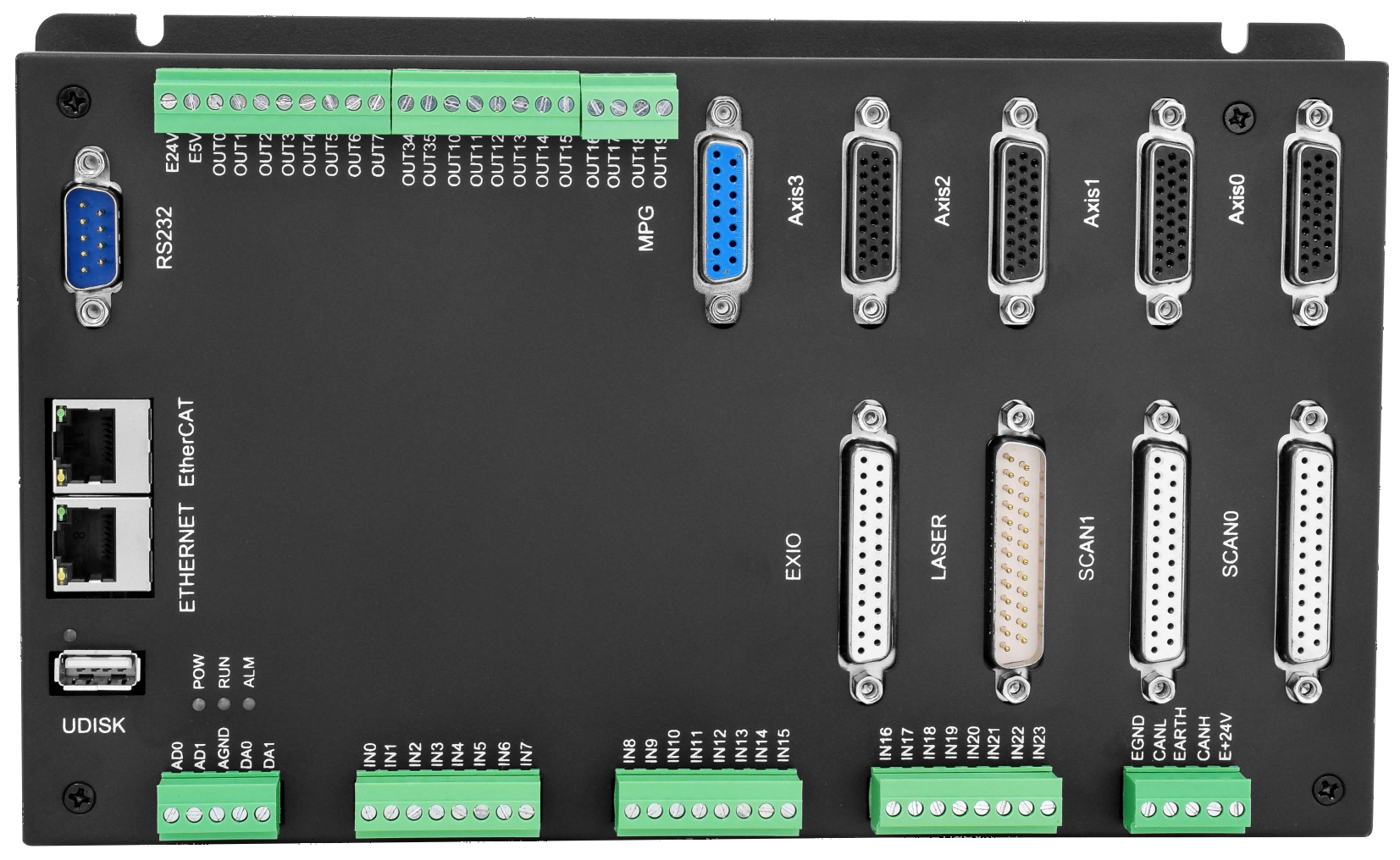 → Motion and Laser Galvanometer: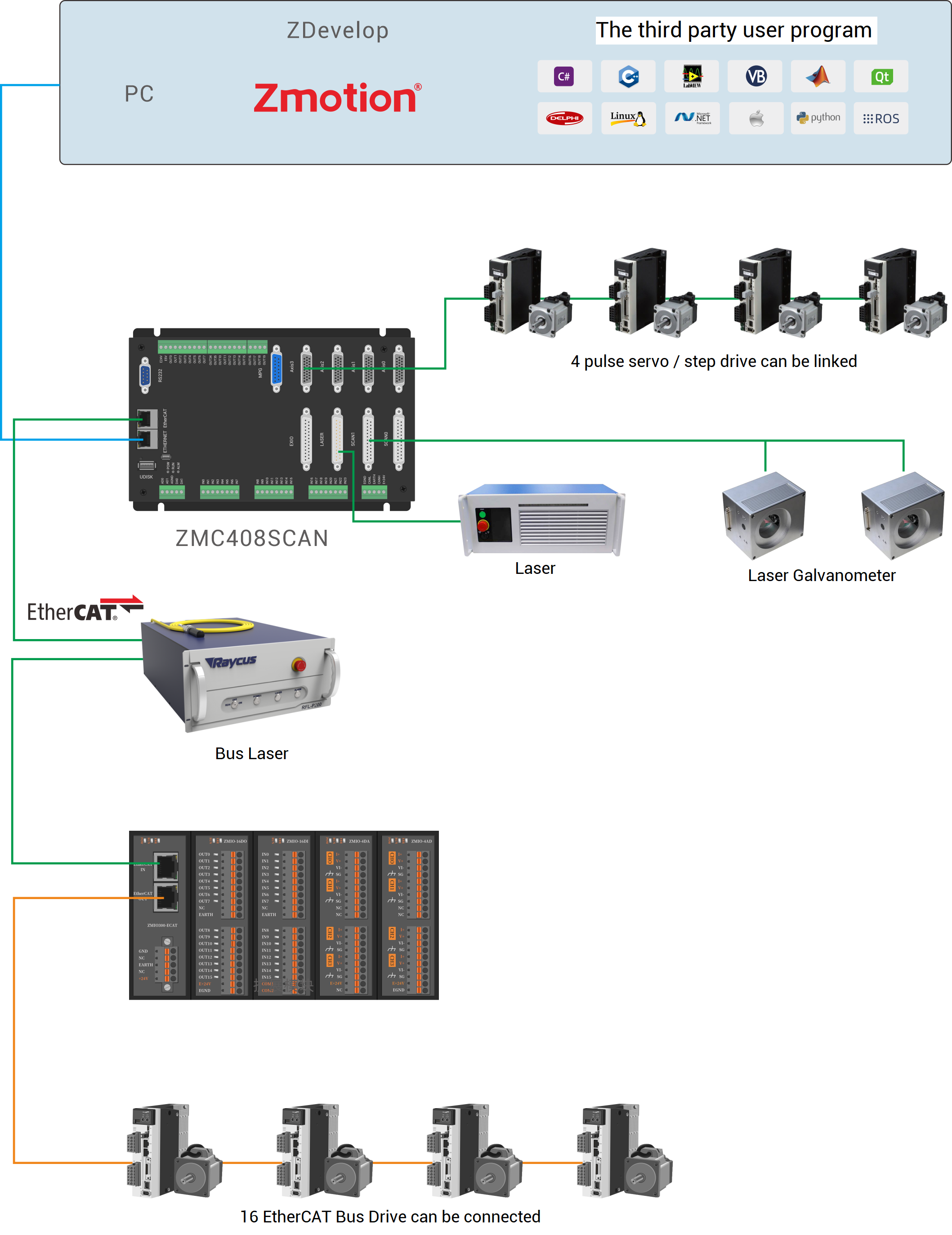 Product Features:
Built-in high-precision PSO function, equidistant and precise output.

It can flexibly control various mainstream lasers in the market.

It can realize mixed interpolation of galvanometer axis + pulse axis + bus axis.

Support multi-controller, multi-mirror simultaneous processing, double the efficiency.

2 galvanometer interfaces, XY2-100 protocol, support 2D/3D galvanometer.

Support laser galvanometer control and galvanometer feedback to complete precise and efficient laser control.

Applications:
It can be used for laser galvanometer marking, welding and cutting in the fields of 3C electronics, semiconductors, new energy, photovoltaics, automobiles, medical care, etc., as well as large-format XY table + galvanometer axis linkage processing, and XYZAC five-axis interpolation processing.
Lithium battery industry tab welding, top cover welding, module and PACK welding, tab cutting, marking, laser cleaning, etc.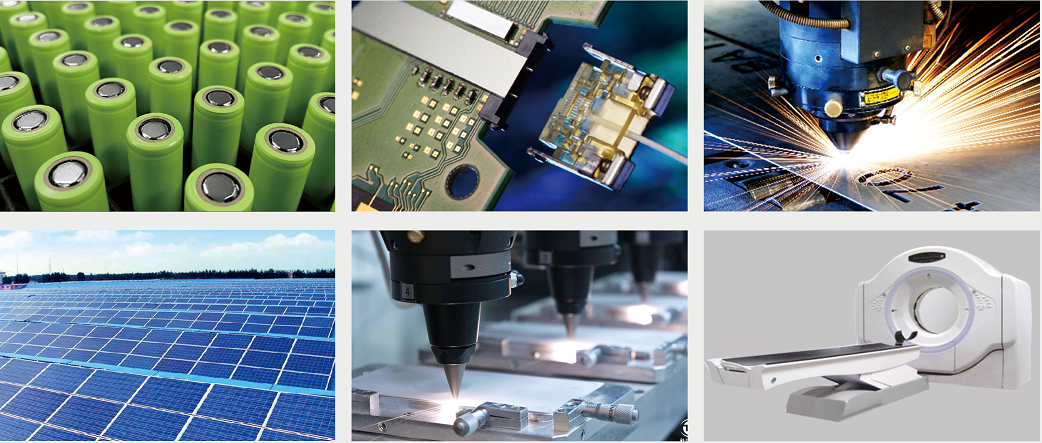 For more information, please pay close attention to"Support"and "Download", and there are other platforms about ZMOTION -- Youtube & LinkedIn & Twitter & Tiktok & Facebook , including technical information (development environment, routine code), product showing, company development, etc.

Hope to meet you, talk with you and be friends with you. Welcome!

ZMOTION: DO THE BEST TO USE MOTION CONTROL.

ZMOTION Technology has attracted experienced talents from famous companies or institutions, such as Huawei, ZET, Huazhong University of Science and Technology etc. ZMOTION insists self- innovating and collaborating with comprehensive universities, to research basic knowledge of motion control. Due to its concentration and hard work in motion control technology, ZMOTION already become one of the fastest growing industrial motion control companies in China, and is also the rare company who has managed core technologies of motion control and real time industrial control software completely.

ZMotion Technology provides motion control card, motion controller , vision motion controller, expansion module and HMI. ( more keywords for ZMOTION: EtherCAT motion control card, EtherCAT motion controller, motion control system, vision controller, motion control PLC, robot controller, vision positioning...)