As we all know, in industrial production, usually there are several kinds of defects on the surface of products, such as scratches, bruises, scratches and uneven sizes on appearance caused by uncontrollable production condition and transportation environment. If enterprise still uses traditional detection method, that is, labor detection, the speed and the precision are low, and it may appear wrong detection or missed detection, then obviously it is hard to meet requirements on product quality, appearance, and production, especially now the market competition is fierce increasingly. Therefore, enterprise needs to adopt machine vision automatic detection, then it can achieve full-intellectual appearance detection and sorting for this large market.
Here, optical screening machine is a detection equipment that mainly designed for part size and appearance defects. The whole principle is that it uses vibration disk feeding mechanism to transfer materials to glass turntable, then it does visual detection for materials through machine vision system. In this process, motion control card can realize constant speed rotation for turntable and materials' position control, at the same time, using encoder feedback and hardware position comparison output to control CCD cameras at different position and air-blowing equipment. It can be seen this kind of optical screening machine promotes production efficiency and reduces labor cost because of full-automatic multi-dimensional appearance and size detection.
Combined with the professional understanding of optical screening machine technology process and motion control technology, Zmotion researched and developed one PCI Express® bus motion control card for high-speed optical screening machine, XPCIE1028. This XPCIE1028 PCI Express bus motion control card is with rich IO and communication interfaces, then it is easy to achieve communication with vision screening machine. In addition, 1-12 cameras and multiple high-speed air-blowing ports can be used.
Optical screening machine is mainly used to sort appearance size and defects, specifically, precision hardware, electronic components, plastic products, rubber parts, automotive fasteners, etc.
--high speed optical screening machine--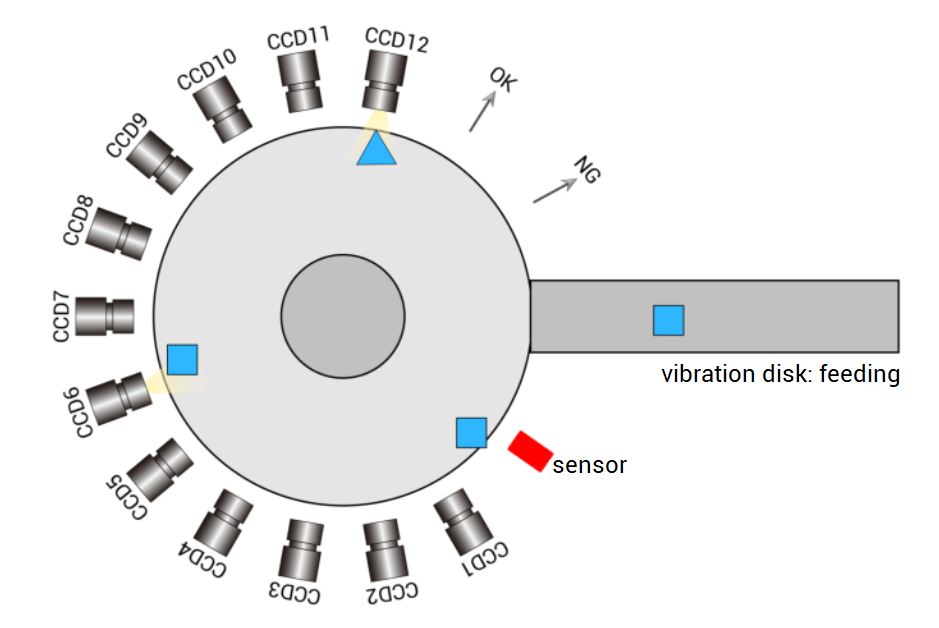 --screening machine hardware solution 1: 1 XPCIE1028 PCIe real-time motion control card + 8 cameras + 8 air-blowing ports--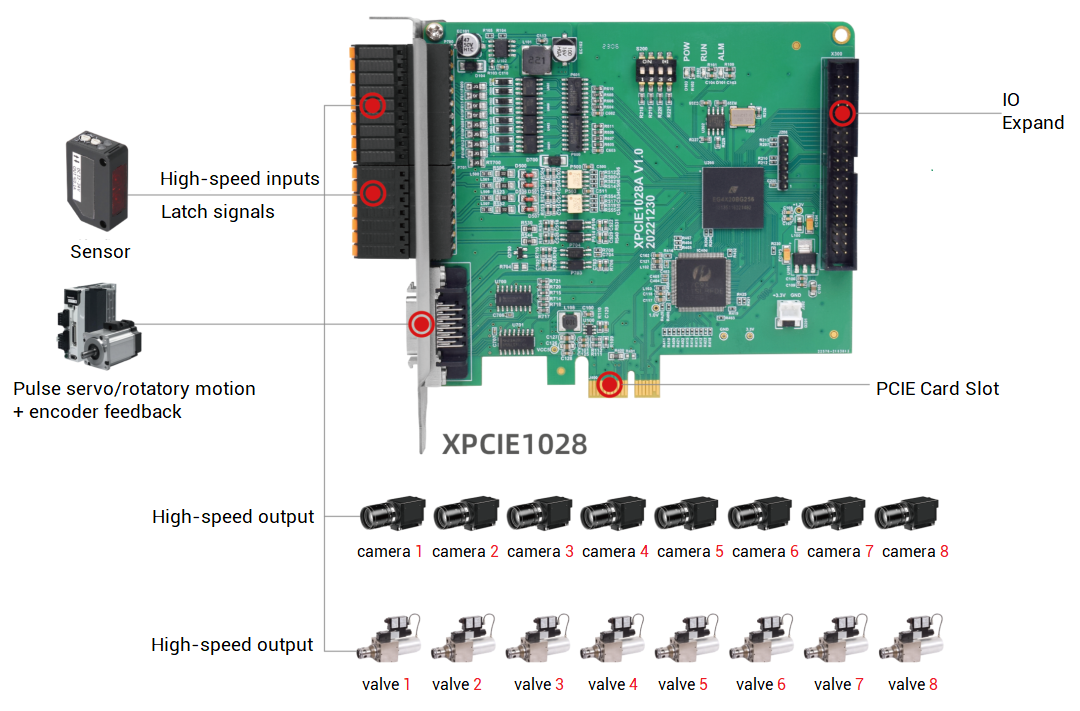 --screening machine hardware solution 2: 1 XPCIE1028 PCIe real-time motion control card + 12 cameras + 4 air-blowing ports--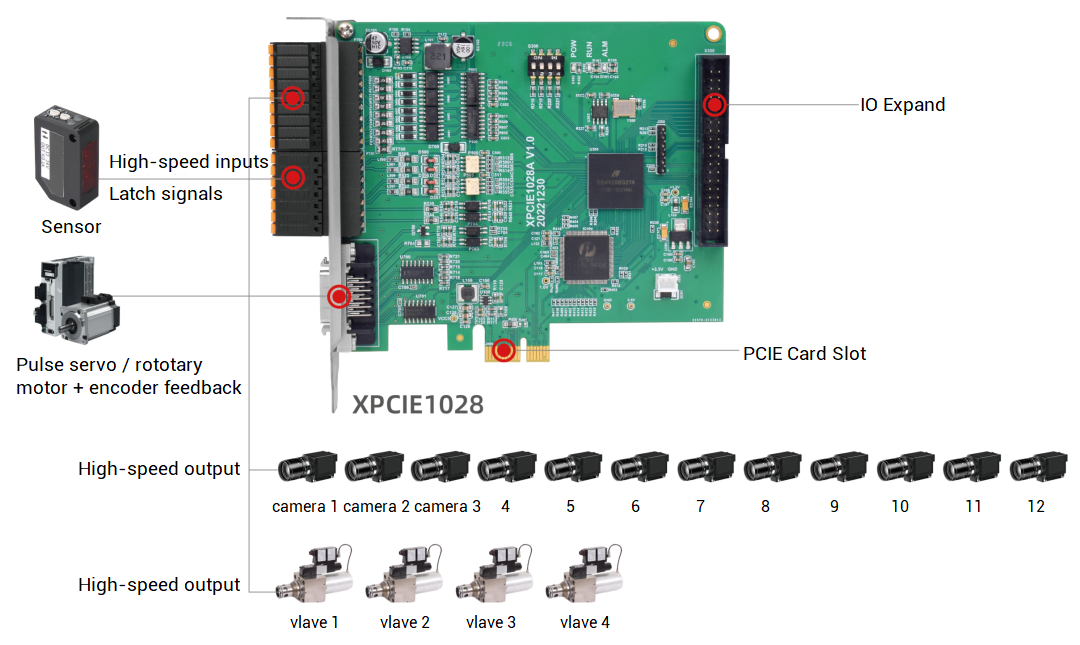 --one full set of motion control screening and debugging equipment | easy to use--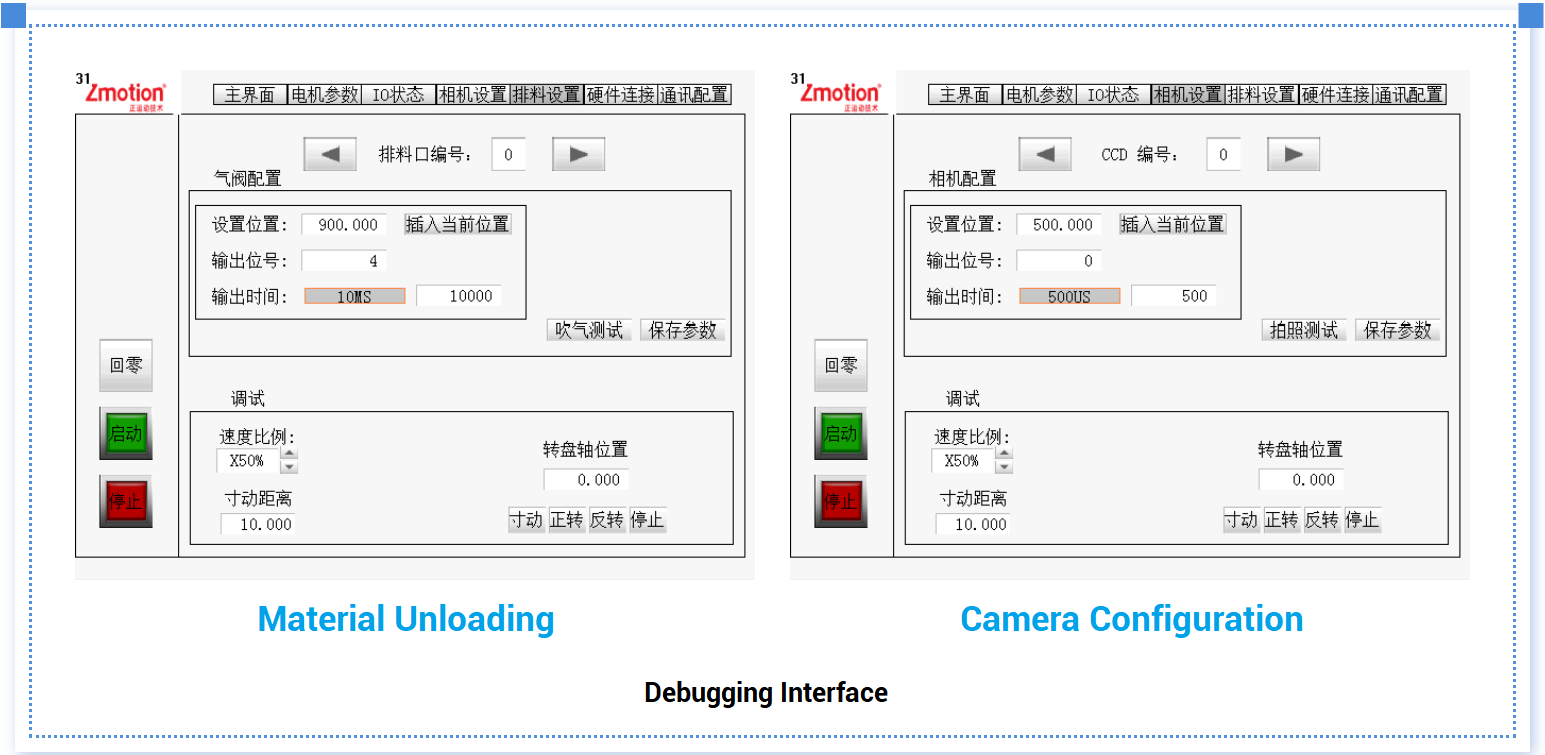 XPCIE1028 Motion Control Card Functions
1. support electronic cam, linear interpolation, and other motion control functions.
2. there are 28+2 general inputs and 32+2 general outputs. Among them, 8 inputs are in high-speed and 16 outputs are in high-speed.
3. there are 4 pulse outputs on board, and one is specified pulse axis interface (differential pulse output + encoder feedback).
4. support 8 high-speed latch inputs, which can record materials' position from turntable.
5. up to 16 channels of precise outputs, hardware position comparison outputs, machine vision fly-shooting detection and high-speed outputs of air-blowing (they can be configured freely).
6. provide one full set of screening machine debugging software, it is easy for you to use.
For the application of the XPCIE1028 motion control card in the fully automatic CCD optical screening machine, Zmotion provides a complete screening machine debugging software, which can achieve a maximum IO trigger detection speed of 18000pcs/min. And only simple parameter settings are required, then matching camera and vision processing software, fully automatic CCD visual screening can be rapidly realized, in this way, it can shorten the development cycle and reduce development costs.
For more information, please refer to XPCIE1028 product introduction, or refer to XPCIE1028 solution introduction, or contact us directly.
Have a nice day.