ECI is the abbreviation of network motion control card published by Zmotion Technology.
And today here brings ECI2418 motion control card.
There also is video showing, please enjoy.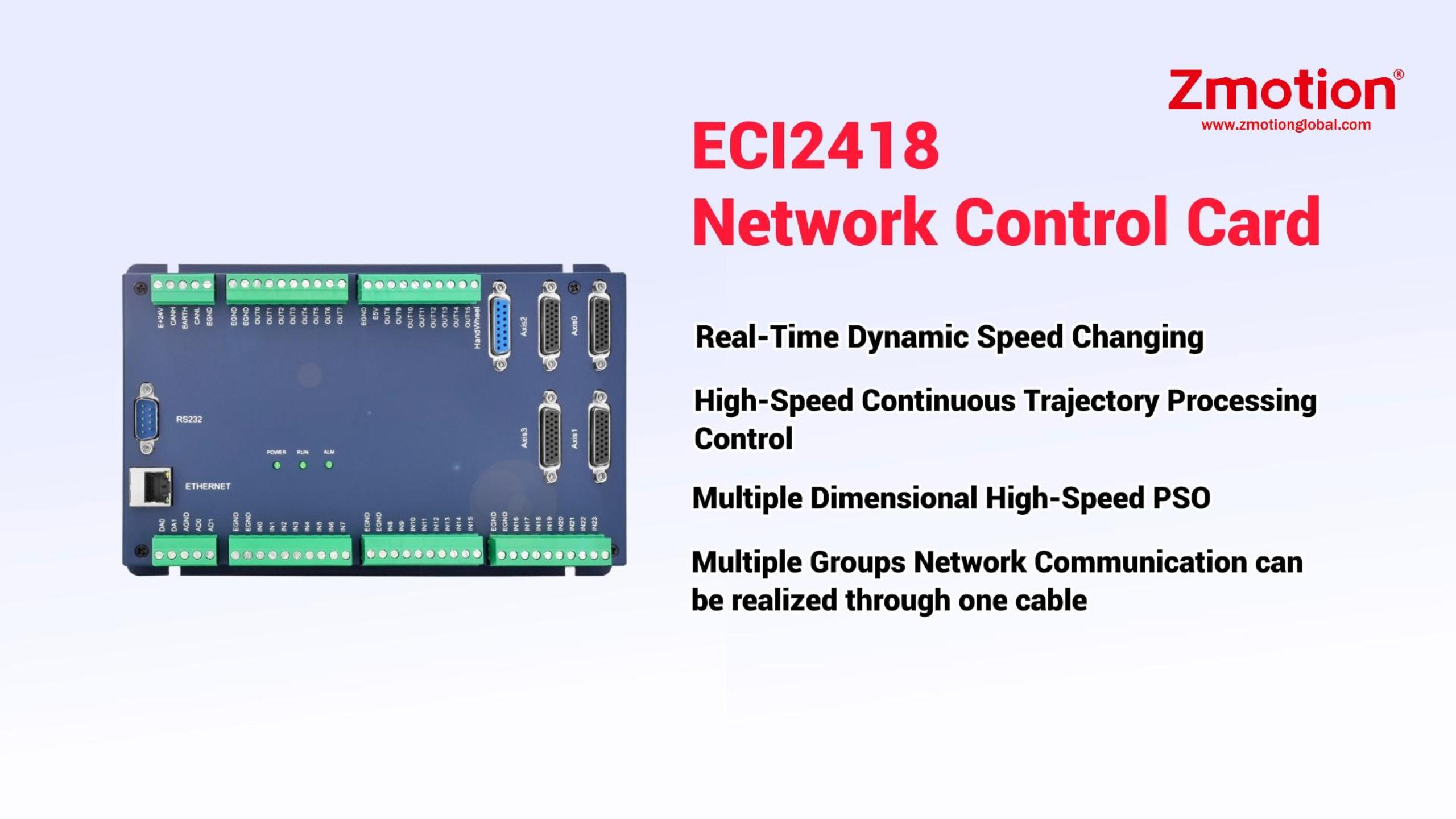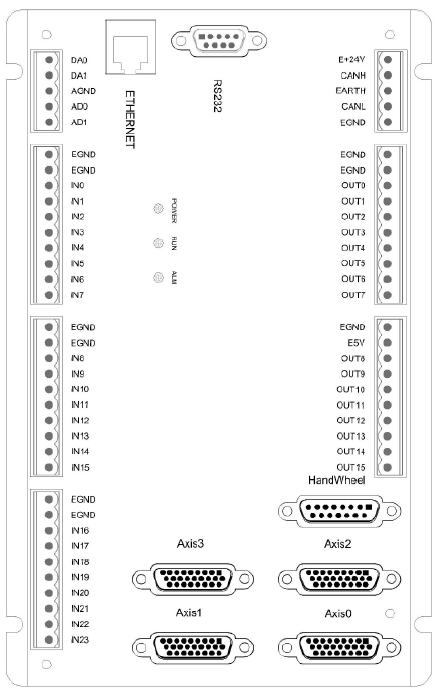 ECI2418 Functions:
1. max pulse output frequency can reach 10MHz.
2. S curve, real time dynamical speed in motion.
3. support 1D/2D/3D high-speed PSO (position synchronization output).
4. it is used for vision fly-shooting, precision dispensing control and laser energy control.
5. continuous trajectory processing, for dispensing, laser, PCB board processing, etc.
In addition, ECI2418 supports linear interpolation up to 12 axes, and interpolation of random circular, spherical, helical, electronic cam, electronic gear, synchronous follow, virtual axis, robot structure, etc.
It could be seen there are rich and required motion control functions on ECI2418, high-speed, high-precision, safety, stability, etc., which can meet diversified control needs of industrial automation.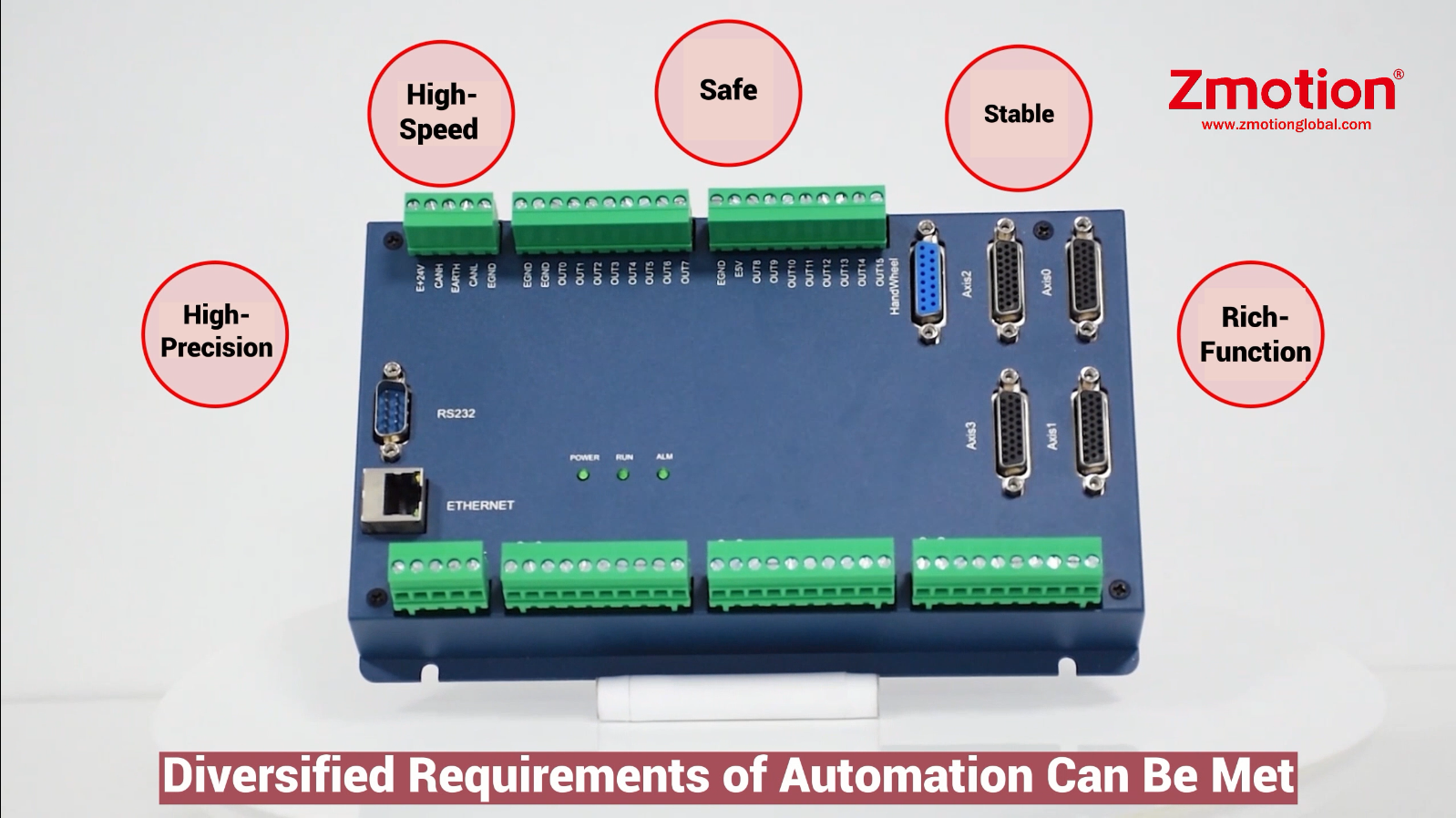 Let's see some basic parameters of ECI2418.
The network motion control card ECI2418 supports 4-channel pulse axis control and encoder feedback, and remote communication between the controller and multiple network devices can be realized through optimized network port communication.
In addition, one uniform API function interface can be called to develop project rapidly, such as VB, VC , LabVIEW, QT, Python, etc.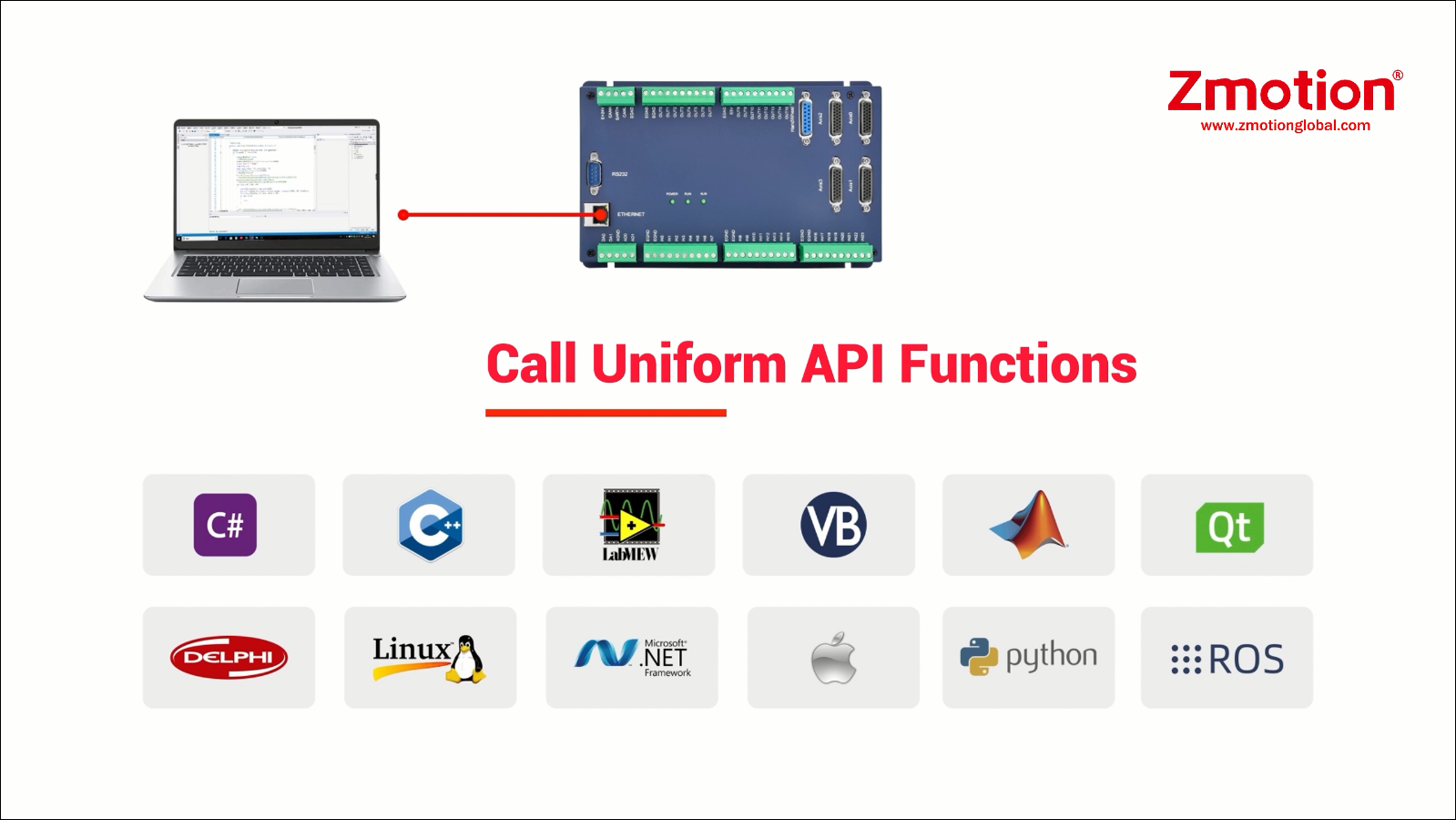 ECI2418 has 24 inputs and 16 outputs, including 2 high-speed inputs and 2 high-speed outputs.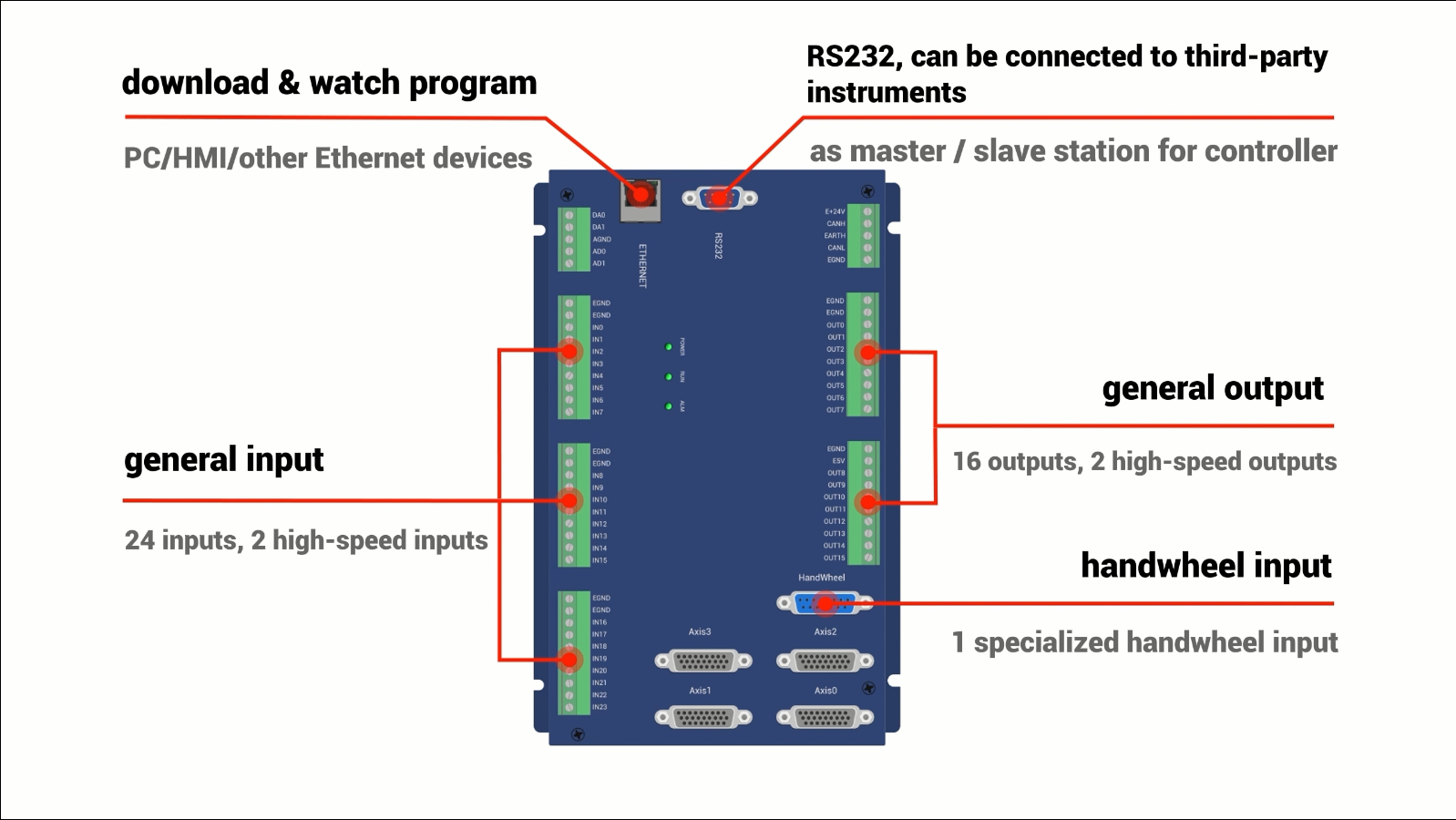 One specialized handwheel input interface, RS232 serial port can be connected to third-party instruments. And it has 2 analog AD and 2 analog DA. Through ZCAN expansion module, 128 ADs, 64 DAs, 256 inputs and 256 outputs can be extended.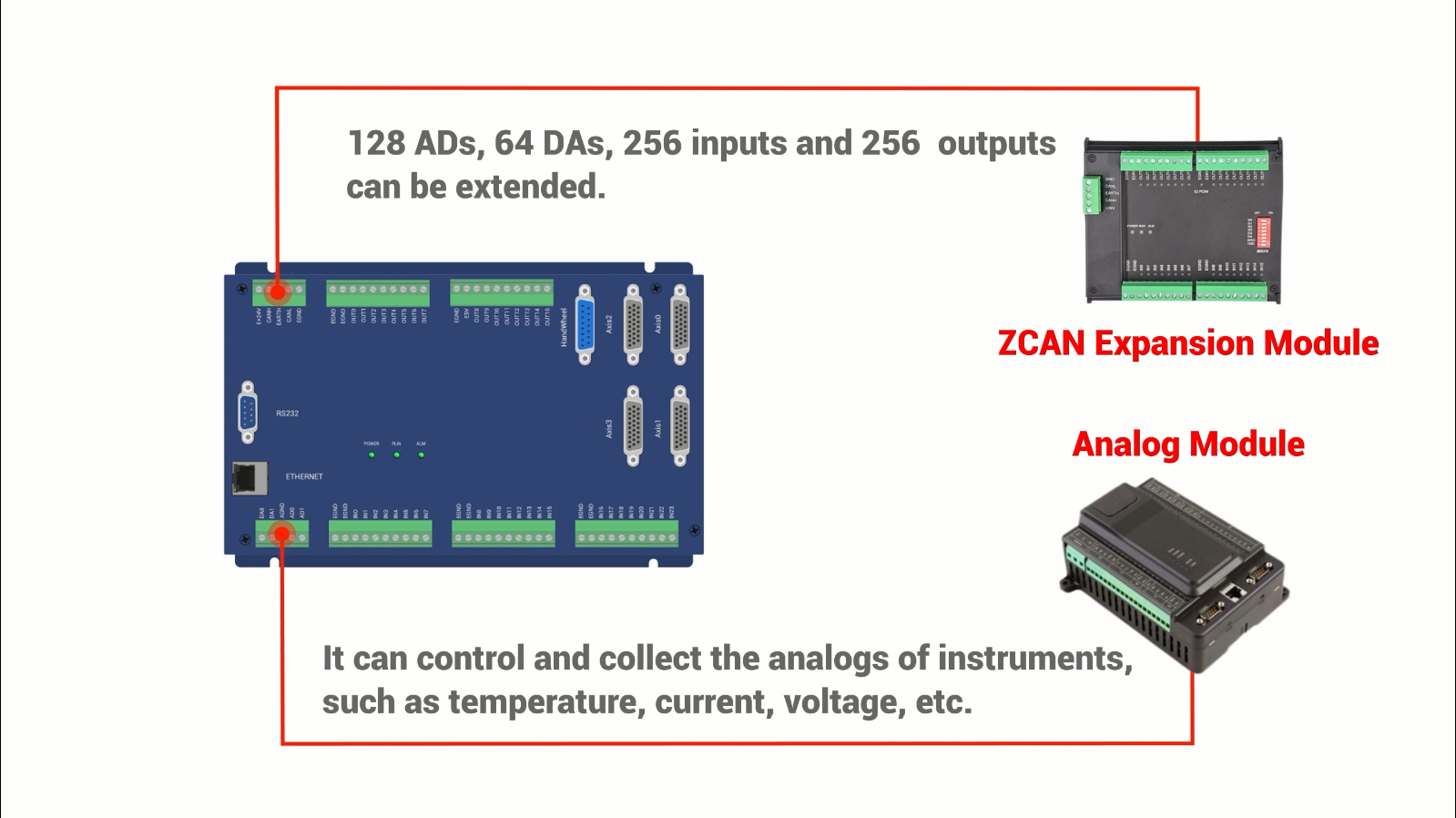 Now, we obtain the basic parameters and functions of ECI2418, let's see some different, namely, special functions that can help us in real applications.
At first, let's see advantages.
ECI2418 Advantages:
1. net port communication, uniform API function calling, easy to develop.
2. no need of PCI card slot, configuration requirements for IPC can be reduced and space can be saved.
3. no need of PCI adapter and terminal boards, easy to wiring, then easy to check problems.
4. no need to install PCI drive, one network cable can achieve remote communication with multiple groups of network equipment, then it is easy to debug.
5. high cost-effective software and hardware configurations.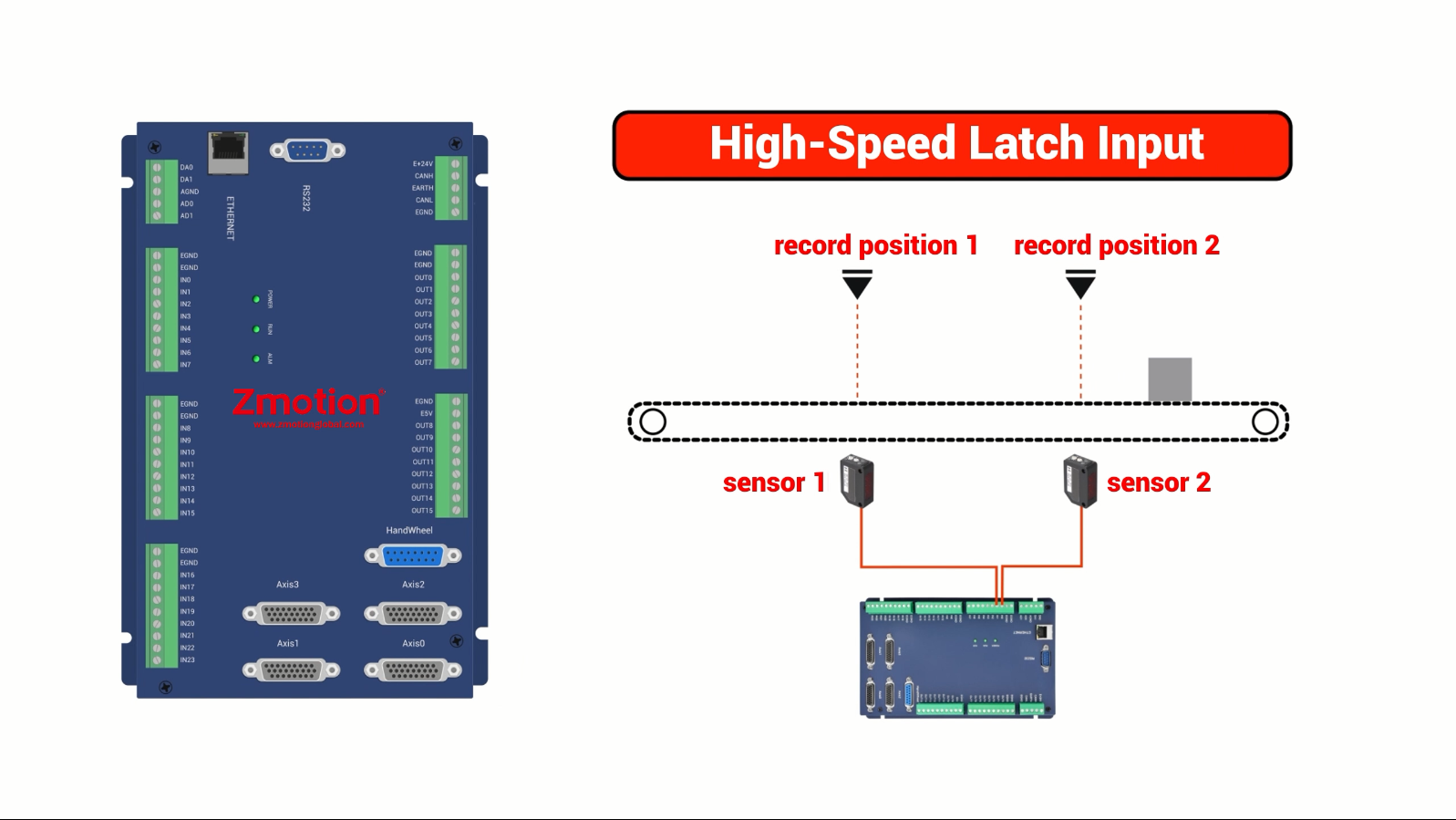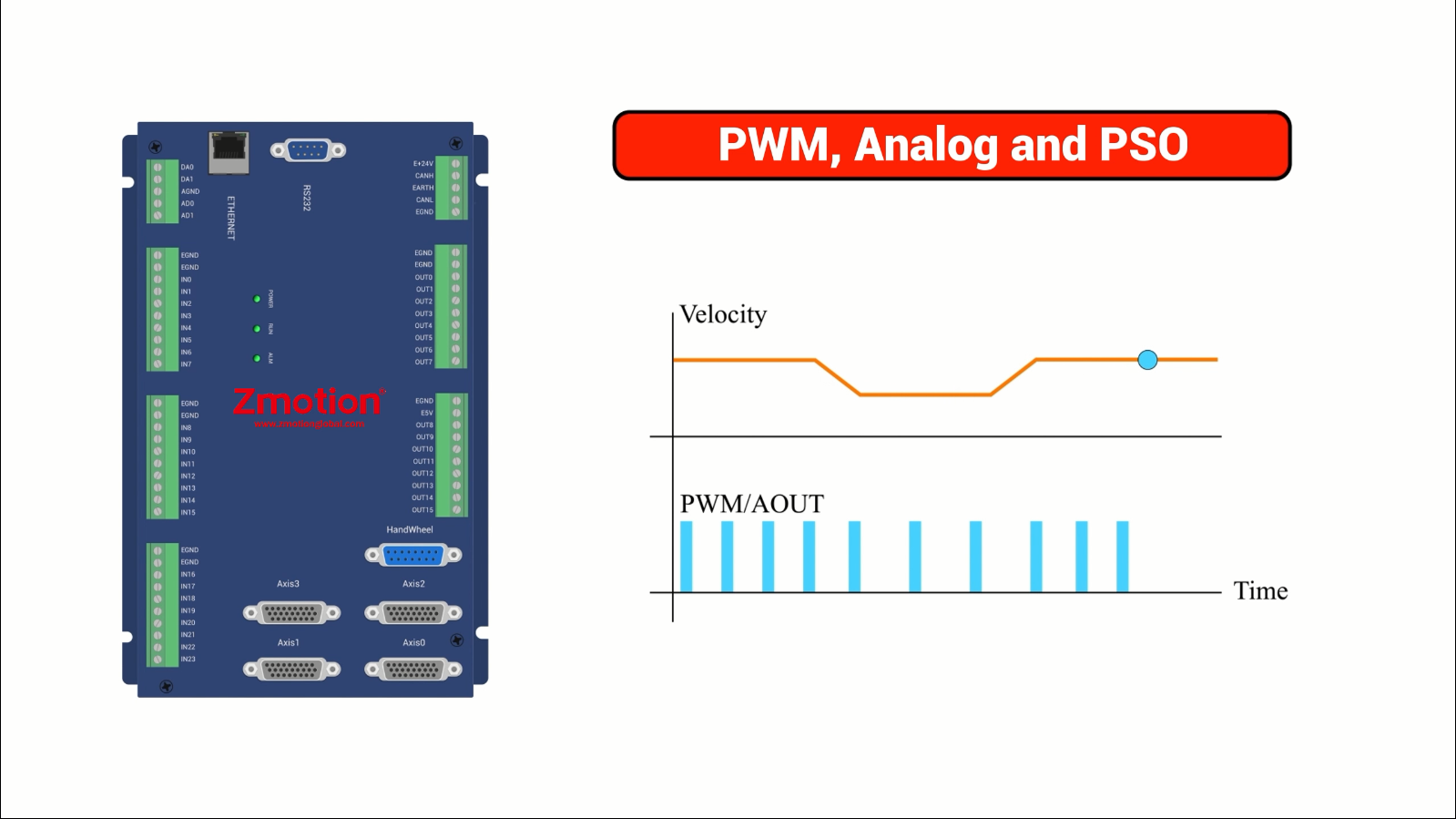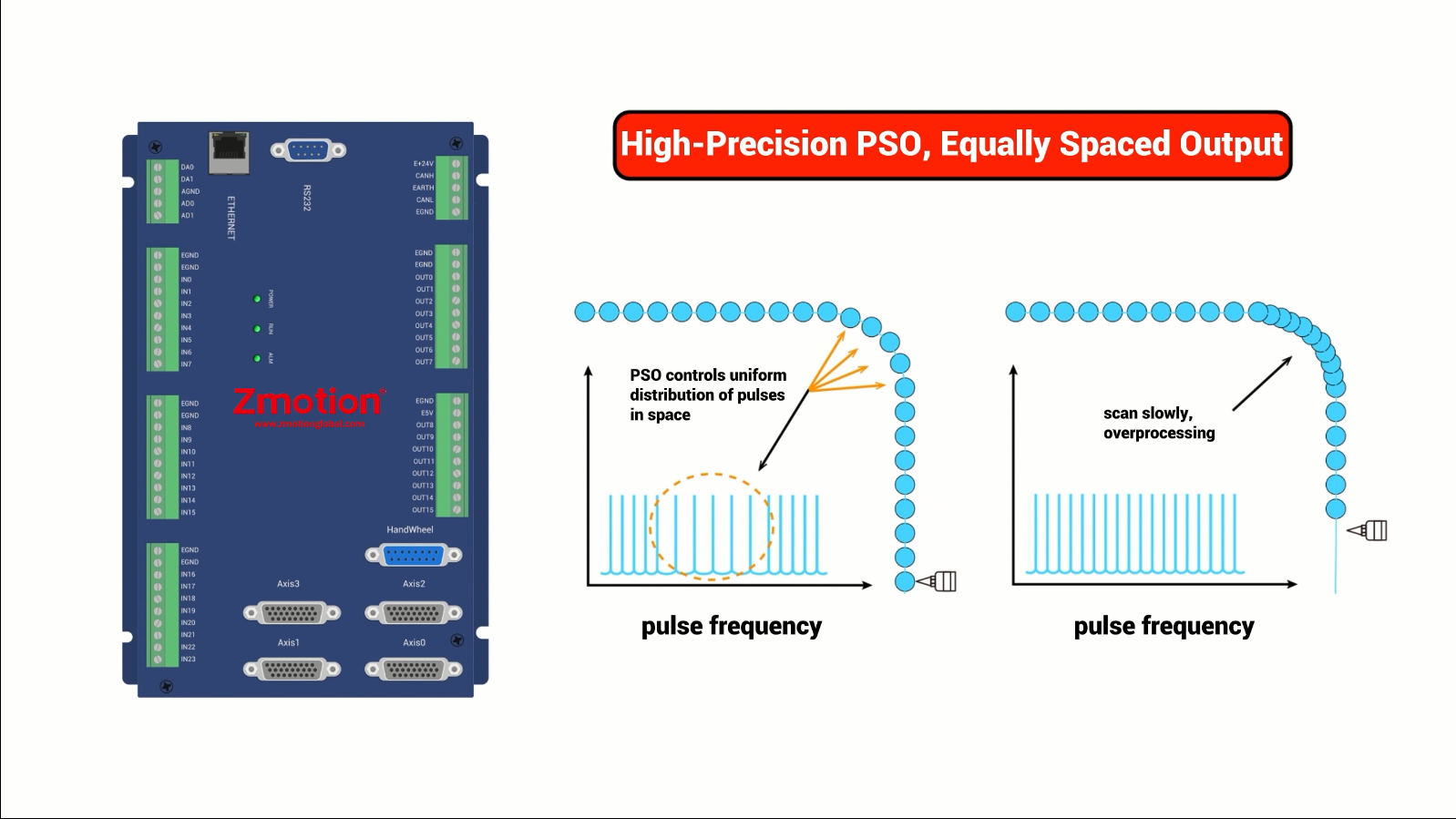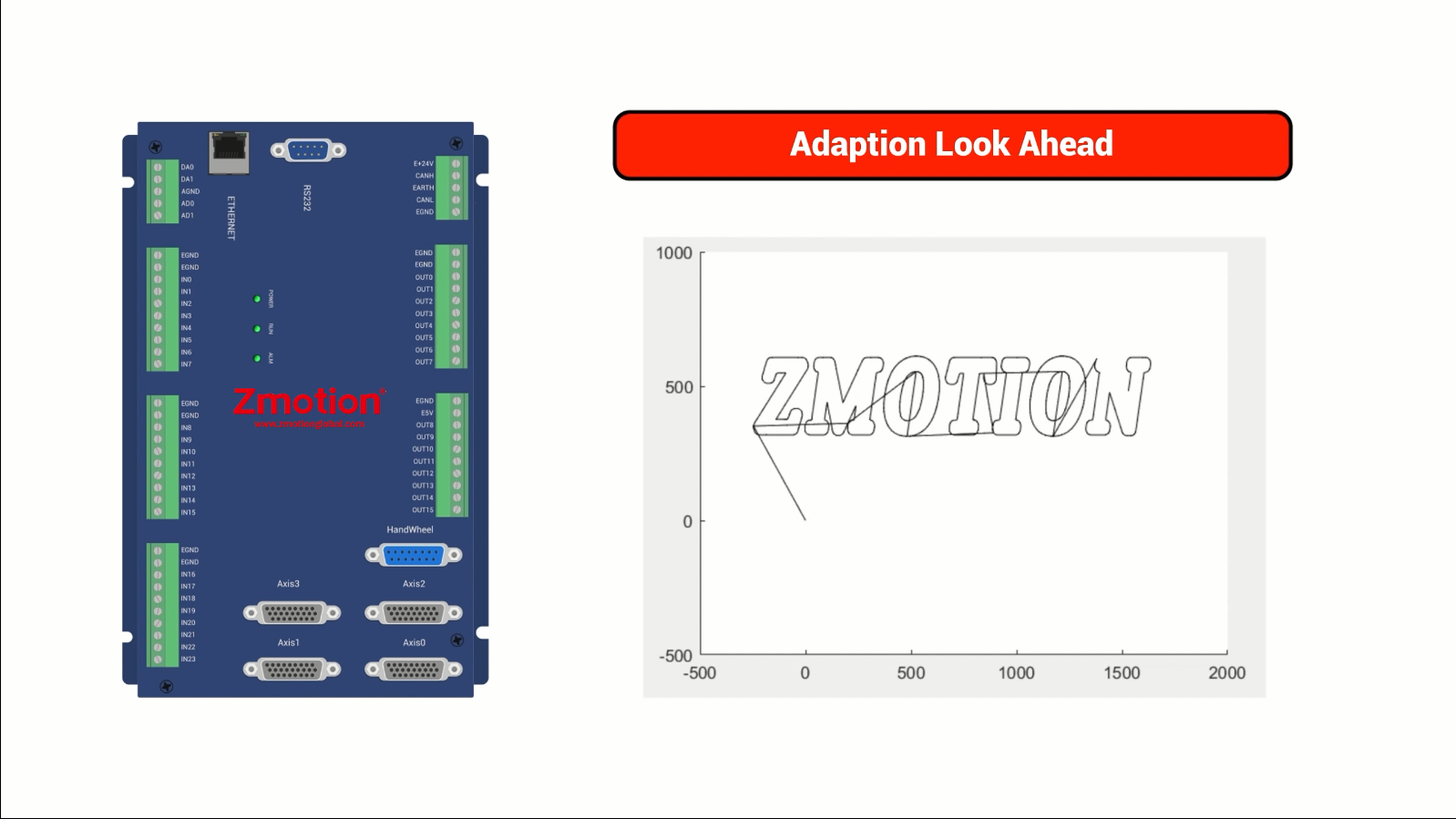 So what's application of ECI2418?
Generally, it is applied for dispensing, locking, soldering, assembly, testing, semiconductor, laser processing, new energy and non-standard automation.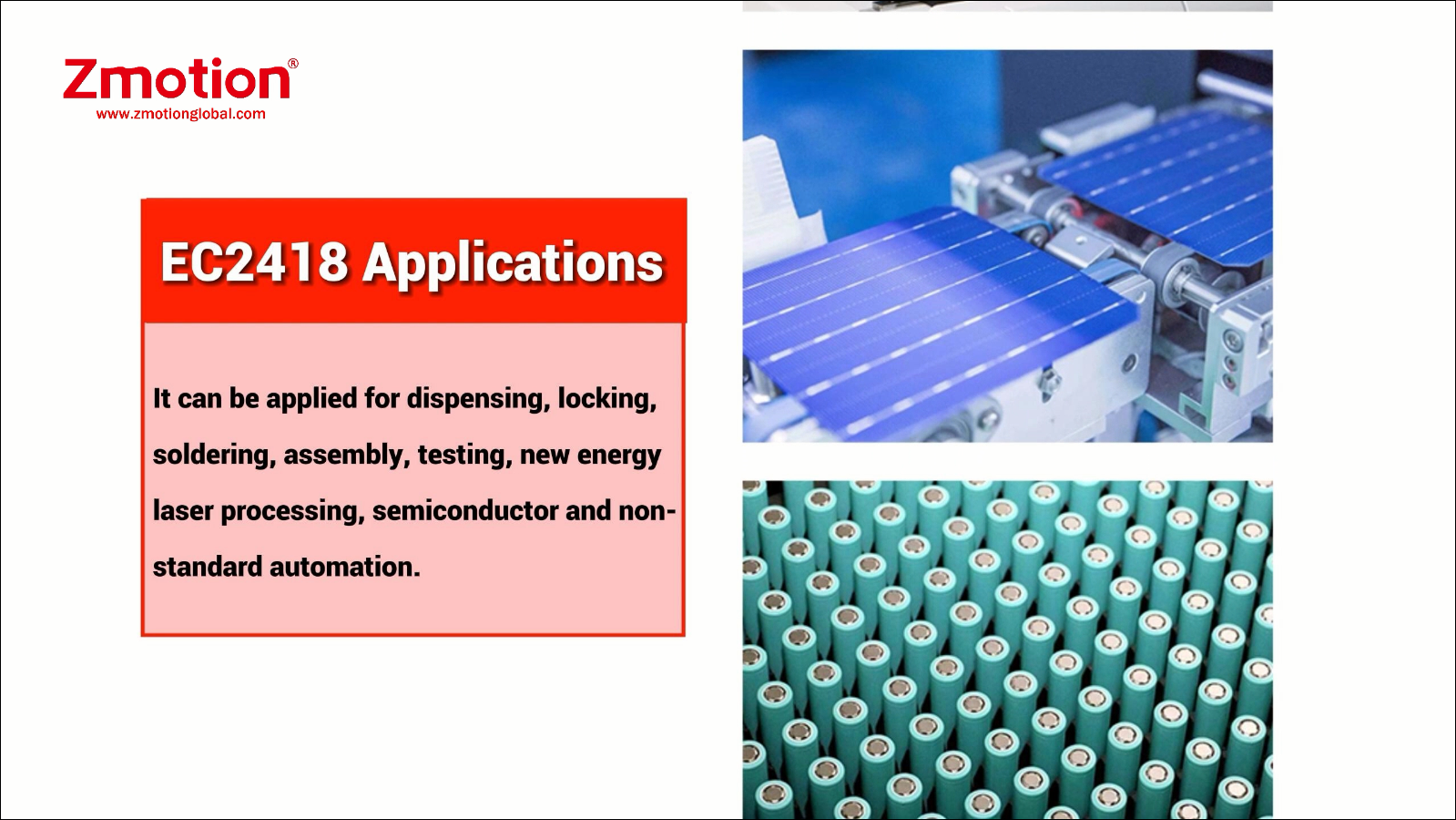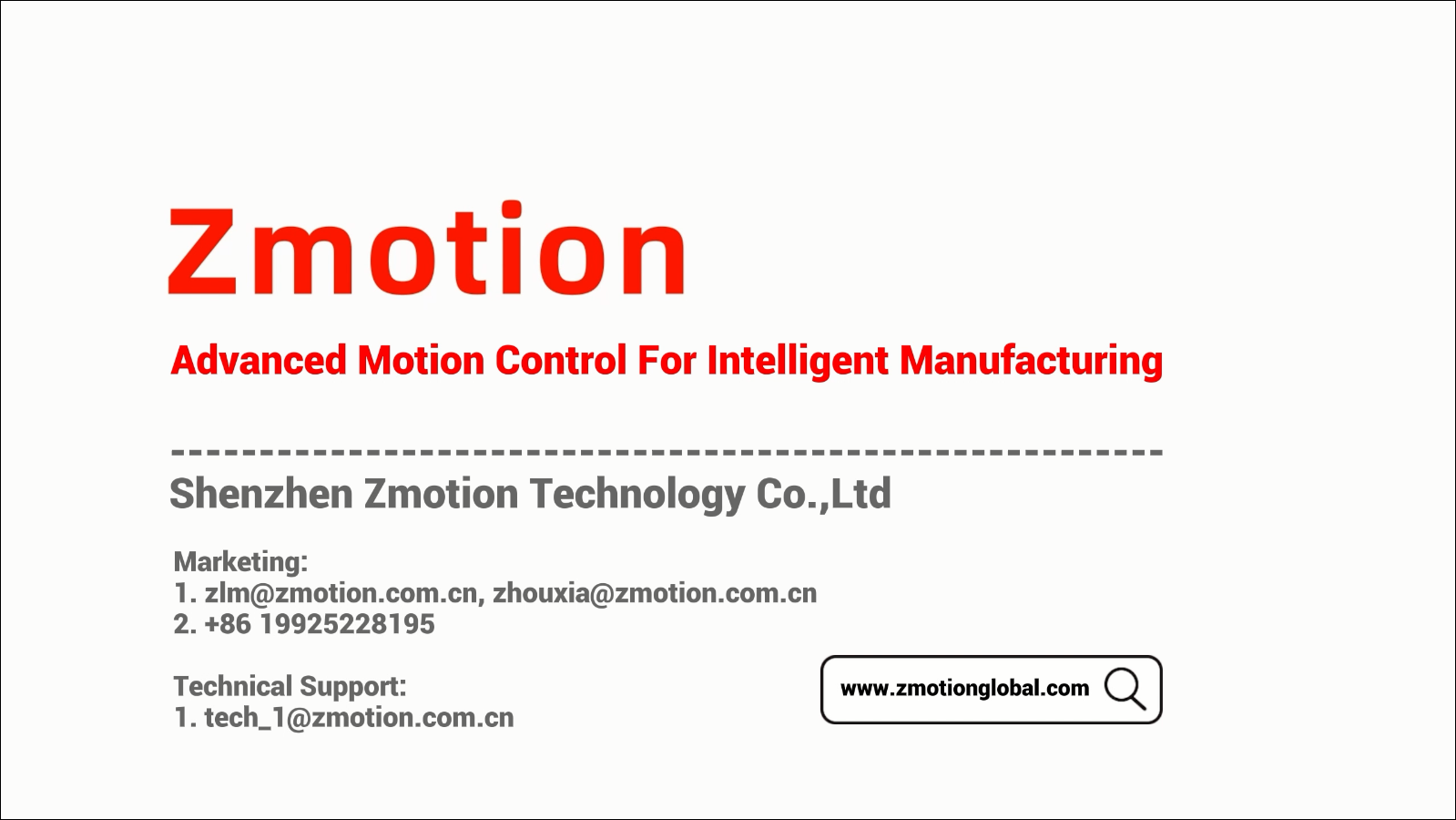 That's all, thank you for your reading -- Product News | ECI2418 Four Axes Network Motion Control Card
For more information, please pay close attention to "Support" and "Download" , and there are other platforms about Zmotion - Youtube & LinkedIn & Twitter & Tiktok & Facebook, including technical information (development environment, routine code), product showing, company development, etc.
Hope to meet you, talk with you and be friends with you. Welcome!
This article is edited by ZMOTION, here, share with you, let's learn together.
ZMOTION: DO THE BEST TO USE MOTION CONTROL.
Note: Copyright belongs to Zmotion Technology, if there is reproduction, please indicate article source. Thank you.
Zmotion Technology focuses on development of motion control technology and general motion control products, it is a national high and new technology enterprise. Due to its concentration and hard work in motion control technology, ZMOTION already become one of the fastest growing industrial motion control companies in China, and is also the rare company who has managed core technologies of motion control and real time industrial control software completely. Here, Zmotion provides motion controller, motion control card, vision motion controller, expansion module and HMI. In addition, there is one program software developed by Zmotion -- ZDevelop. It is a good choice for you to program and compile. And program through upper computer, there is PC manual.
Zmotion Technology provides motion control card, motion controller, vision motion controller, expansion module and HMI. ( more keywords for Zmotion: EtherCAT motion control card, EtherCAT motion controller, motion control system, vision controller, motion control PLC, robot controller, vision positioning...)
Have a good day, best wishes, see you next time.